Parkinson's disease is the second most common neurodegenerative disease (after Alzheimer's) and affects up to 10 million people worldwide (Parkinson's disease Foundation).
Although treatments, like medications or brain stimulation, are available to control symptoms of the disease, the ability to slow progression, halt or prevent the disease, even in people with known genetic risk factors, has come up short. As symptoms of the disease usually hit around 60 (1% of people over 60 are diagnosed; Michael J. Fox Foundation for Parkinson's Research, MJFF) and disease progression is up to 15 years, slowing disease progression would improve quality of life significantly.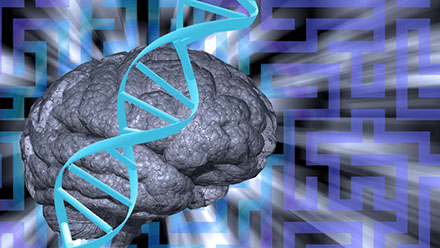 The communication and sharing of ideas between scientists who work in universities and scientists that work in the pharmaceutical industry (Max Planck Institute of Biochemistry, the University of Dundee, MJFF, GlaxoSmithKline (GSK) and Merck), published open access in eLife, has been key to a breakthrough in the development of a drug for the treatment Parkinson's disease.
This recent development has focused on a protein called leucine-rich repeat kinase 2 (LRRK2, pronounced "lark two"; also known as PARK8). Identified in 2004, LRRK2 mutations increases genetic predisposition for the disease, accounting for sporadic (up to 2%) and hereditary (16%) forms of Parkinson's disease. The progression and symptoms of sporadic and hereditary forms of Parkinson's disease are very similar.
Parkinson's disease is a slowly progressing neurodegenerative disorder of the brain with a variety of symptoms - the most prominent being loss or slowness of movement (bradykinesia), stiffness, communication problems and resting tremor.
We know that the disease symptoms are caused by premature death of cells that contain the neurochemical dopamine in an area of the brain called the substantia nigra pars compacta (SNc), with remaining cells exhibiting abnormal accumulation of α–synuclein protein clusters - but scientists are still trying to figure out what triggers this process of degeneration.
LRRK2 mRNA and protein has been detected in brain cells in areas linked to Parkinson's disease such as the cortex, striatum and the SNc.
A collaboration of labs at Oxford University, found that LRRK2 mutant mice have symptoms and brain changes similar to those seen in human Parkinson's disease: movement and cognitive dysfunction; abnormal SNc dopamine neurons activity, and; less dopamine release in a part of the brain that receives dopamine from the SNc called the striatum. Their symptoms also improved when given the most common drug treatment for Parkinson's disease called L-DOPA. All of these changes occurred prior to neurodegeneration or abnormal α–synuclein accumulation- suggesting not only that LRRK2 dysfunction is important for early stages of the disease and thus could be a target for delaying progression of the disease, but also that changes in dopamine levels occur prior to loss of dopamine containing cells.
As the LRRK2 mutation enhances LRRK2 activity, researchers believe that finding ways to reduce LRRK2 function, or modulate other cellular molecules that it interacts with, could delay or prevent progression of Parkinson's disease. The problem is that many LRRK2 inhibitors have been found to be toxic (rodents without LRRK2 also have deformed kidneys and lungs).
A study conducted in the West lab at The University of Alabama at Birmingham, Alabama, USA found that a LRRK2 inhibitor (PF-06447475) developed at Pfizer was neuroprotective in both mice with LRRK2 mutations and in normal mice that had α–synuclein protein injected into their brains. This is important as it means that targeting LRRK2 may be therapeutic even in people who have Parkinson's disease not caused by an LRRK2 mutation.
Further drug development requires answers to the questions: what is the function of LRRK2 and what other cellular processes does it interact with?
The eLife study, with a selection of state-of-the-art techniques, identified that LRRK2 targets a family of proteins collectively known as Rab GTPases. Rab proteins move molecules and other "cargo" around brain cells. The collaboration discovered that in normal situations LRRK2 deactivates Rab proteins but abnormal, Parkinson's disease-associated, LRRK2 deactivated Rab proteins too much. This led to problems in moving cargo around brain cells, with relatively too much inactive Rab proteins in cell membranes.
As diagnosis of Parkinson's disease often comes well into disease progression (sufferers lose a significant proportion of their dopamine cells early in the disease), if we can screen for mutations in LRRK2 gene, then targeting this protein could be neuroprotective and perhaps halt or slow disease progression.
Links to papers mentioned:
"Phosphoproteomics reveals that Parkinson's disease kinase LRRK2 regulates a subset of Rab GTPases" in eLife: http://elifesciences.org/content/5/e12813v2
"LRRK2 BAC transgenic rats develop progressive, L-DOPA-responsive motor impairment, and deficits in dopamine circuit function" in Human Molecular Genetics found here.
"Leucine-rich Repeat Kinase 2 (LRRK2) Pharmacological Inhibition Abates α-Synuclein Gene-induced Neurodegeneration" in The Journal of Biological Chemistry found here.
The Blog was written by Carolyn Lacey, Scientific Outreach Manager at Neurexpert. To learn more about Carolyn and Neurexpert, please click here.