Major depressive disorder (MDD) is debilitating and the leading cause of disability world-wide (approximately 350 million people; World Health Organization). Although there are a host of symptoms common to MDD (mood changes, lethargy, loss of interest etc.)- these symptoms are common to many physical and/ or mental disorders. Depression often goes undiagnosed and can lead to suicide.
So, what if the guessing game could be taken out of the equation? What if your doctor could take a sample of your bowel movement, test its composition, and know whether you are depressed or not? And then, knowing that, devise a plan for your treatment?
A study published in Molecular Psychiatry from the labs of Wei Hong (Third Military Medical University, China), Xie Peng (The First Affiliated Hospital of Chongqing Medical University, China) and Julio Licinio (Flinders University, Australia) found that the fecal microbiota composition of patients diagnosed with MDD was different to healthy patients (and not due to antidepressants, sex, age, smoking or weight).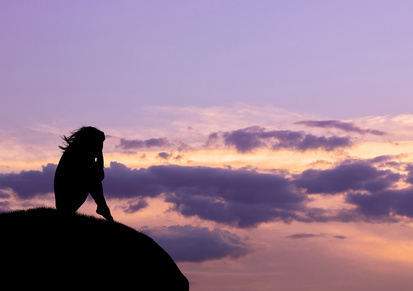 Our microbiome (about 100 trillion beneficial micro-organisms like bacteria, fungi and viruses), along with the gut-brain connection, is becoming more widely recognized as a contributing factor to mental health. Our microbiota directly influences our behavior, including those related to stress, anxiety and depression. Disturbances in microbiota have been detected in other neurodevelopmental disorders such as autism spectrum disorder. A 2013 study in Cell found that probiotics improved behavior and gastrointestinal function in a mouse model of autism.
It is possible that repairing microbiata composition in MDD is a viable option for treatment.
Germ-free (GF) mice are a type of research mouse that do not contain the microorganisms that normally populate a mammalian body. Using the knowledge extracted from the human fecal samples, the researchers were able to colonize the GF mice with "depression microbiota" or "healthy microbiota". They found that after two weeks the "depression microbiota" produced depressive-like and anxiety behavior in the mice. Further analysis of the mouse droppings confirmed that they harbored the characteristics of the human depression microbiata.
If you feel tired, lethargic or experience "brain fog" then microbiata could also be involved. The researchers went on to find that the "depression microbiata" caused changes in metabolites in the mice related to carbohydrate (such as sugar) and amino acid metabolism- suggesting that there is a higher energy demand in depression.
The same group of researchers published another study in Molecular Psychiatry. This time they were interested in the effects of chronic stress and inflammation on depression and microbiata. Chronic stress (physical and mental) leads to activation of pathways involved in inflammation- this can lead to MDD (so-called inflammasome hypothesis of depression). Similar to the other findings, chronic stress alone led to changes in mouse microbiata and produced depressive-like and anxiety symptoms. It's interesting also that blood markers of stress and inflammation are increased in MDD patients.
The researchers found that mice that lack an enzyme involved in inflammation called Caspase-1 are protected from the effects of chronic stress and they do not develop anxiety or depression-like behaviors.
Knowing this the researchers thought: would blocking Caspase-1 make a good anti-depressant? Using a widely used antibiotic that prevents Caspase-1 function, called minocycline, the researchers were able to alleviate the effects of chronic stress and alter the microbiome composition in the mice.
Incredibly, a growing body of research is demonstrating that disorders of the brain are not in fact disorders of the brain in isolation but a disorder of the entire gut-brain-gut axis that also involves gut immune, metabolic and nervous systems.
These studies suggest that targeting the microbiome or inflammation could be a novel strategy for treating MDD (and perhaps other neuropsychiatric disorders like bipolar disorder or schizophrenia) in humans. Moreover, by simply giving your doctor a fecal sample that can be analyzed for microbiata composition, you could receive not only a more accurate diagnosis but also perhaps a personalized strategy for treatment that is tailored to your specific microbiata or inflammasome make-up.
To view the original papers discussed in this blog click the links below:
Inflammasome signaling affects anxiety- and depressive-like behavior and gut microbiome composition Molecular Psychiatry (2016) 21, 797–805; doi:10.1038/mp.2016.46 - click here.
Gut microbiome remodeling induces depressive-like behaviors through a pathway mediated by the host's metabolism Molecular Psychiatry (2016) 21, 786–796; doi:10.1038/mp.2016.44 - click here.
Microbiota Modulate Behavioral and Physiological Abnormalities Associated with Neurodevelopmental Disorders published in Cell DOI: http://dx.doi.org/10.1016/j.cell.2013.11.024 - click here .
The Blog was written by Carolyn Lacey, Scientific Outreach Manager at Neurexpert. To learn more about Carolyn and Neurexpert, please click here.