I need a hug. Touch is a powerful sense that is necessary for survival- and not just because it allows you to avoid sharp objects or move away from a burning flame- gentle touch promotes survival early in life.
Infant mortality rates were very high in 20th century orphanages or hospitals. This was probably not only because of disease, inadequate nutrition or neglect. The babies may also have failed to thrive because their well-intentioned caregivers were advised to avoid touching the babies on the basis that it was better not to transmit germs. These days, so-called "kangaroo care" involving skin-to-skin contact and loving embraces is promoted during care for preterm infants as it greatly improves survival rates.
Touch is a vital source of non-verbal communication that provides a secure base for young to learn to navigate their environment- playing a crucial role in behavior, social, emotional, motor, language and cognitive development. For this reason the skin is often referred to as a "social organ".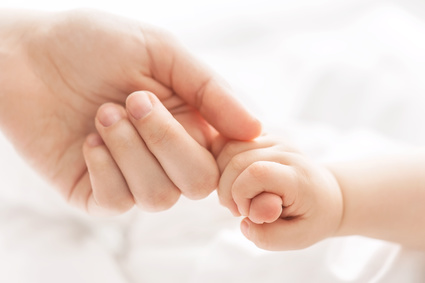 With the skin being a social organ in mind, what happens when the nervous system develops in such a way that gentle touch feels too intense or even painful, or the feel of the clothing on your skin is just unbearable? A proportion of people, including those with neurodevelopmental disorders like autism spectrum disorder (ASD), Rett syndrome, Fragile X syndrome and attention deficit hyperactivity disorder (ADHD), can experience either an enhanced (or diminished) reaction to tactile stimuli.
How does this then affect development and the ability to navigate the social environment? With touch being so important for normal brain development, what role, if any, does atypical tactile processing in ASDs play in development of other symptoms of the disorder?
When touch goes wrong
Researchers in the lab of David Ginty at Harvard Medical School, USA, were interested in examining a common symptom of ASD known as tactile sensitivity.
When they separately introduced several genes commonly found in humans with ASD (Mecp2, Gabrb3, Shank3, and Fmr1) in mouse skin nerve cells the mice did indeed become hypersensitive to touch.
But, in doing so, the researchers discovered something incredibly eye-opening: the mice also exhibited other core symptoms of ASD typically associated with brain development changes - social avoidance and anxiety.
Yes, you read that correctly. Deficits in social interaction and anxiety can be caused solely by gene changes in skin nerve cells – even if those genes are still expressed normally in the brain.
Mice that had human autism-genes expressed in their skin nerve cells- known as primary somatosensory neurons- were less sociable, more anxious, more submissive, and less interested in nest building. They lost most of their "matches" with other mice when put in a tube- a kind of social dominance test. They also had hypersensitivity to gentle touch and altered tactile discrimination- meaning they were less able to determine rough from smooth. On top of that they were also more sensitive to noise and air puffs.
And here's an interesting finding- when the ASD genes were introduced in adult mice skin nerve cells the adults did not develop these typical ASD symptoms even though these mice did end up having tactile sensitivity. These mice were actually found to be more aggressive and become more dominant in social tests!
This is an important clue as it suggests that merely changing tactile experience (like if you get nerve damage due to an accident) is not enough for major changes in social behaviors core to ASD - it has to coincide with brain development.
And here's another interesting finding- merely introducing these genes into frontal lobe brain cells did not produce these ASD-like symptoms.
What is the biological basis?
The researchers were interested in figuring out why these genes when expressed in skin nerve cells were not only sufficient to cause tactile sensitivity, but, were sufficient to cause social and anxiety problems.
The answer lies in a gene that, when mutated, causes symptoms associated with ASDs and is present in a mutated form in some humans with the disorder. The gene, Gabrb3, controls the expression of a sensor (receptor) in the nervous system that responds to the chemical GABA. Other genes associated with ASDs also cause changes in expression of this Gabrb3 sensor.
Skin nerve cells first port of call in sending touch information to the brain is the spinal cord. This is where the researchers focused their attention. Simply, GABA usually acts to diminish any nerve signals. In the mice with skin nerve cell ASD mutations the researchers found less GABA sensors- meaning that GABA was less able to control messages traveling from the skin to the spinal cord- thus allowing more information about touch to travel to the brain.
When too much or too little touch is not enough
This is a major breakthrough in a piece of the puzzle for ASD research that has, until now, mostly focused on the brain.
The researchers refer to this as "defective gain control" in the interface between touch and the central nervous system- in other words every touch is amplified. With this, and amplification of other sensory stuff like sounds, coming in to the brain it makes it difficult for someone with ASD to decode their physical world making normal exploration overwhelming or misread- displaying itself in anxiety and withdrawal from social situations that may have unpredictable physical contact.
Social interaction and communication deficits are common symptoms of ASD. This is often exacerbated further by anxiety and avoidance of social contact, touch or situations with a lot of sensory stimulation (noise, crowds etc.).
It's like the chicken and the egg conundrum- touch is important for brain development and, yet, in ASD touch is avoided.
Just as excessive touch information can lead to touch defensiveness and avoidance-children who grow up in institutions with less hands-on care can have poor language development, cognitive disabilities and anxiety/ other psychiatric disorders.
That's not to say that "refrigerator mother" theory of autism will now make a come back. Quite the opposite- if our "social organ" (skin) is not processing the touch information appropriately then this defines how we interact with our world and can have wider implications on behavior and brain development in general – it becomes an "anti-social" organ if you will (see Neuron article in reading list).
This study also adds neurobiological credence to therapies that work on sensory processing in neurodevelopmental disorder patients.
To view the original paper discussed in this blog:
"Peripheral Mechanosensory Neuron Dysfunction Underlies Tactile and Behavioral
Deficits in Mouse Models of ASDs" in Cell see here.
Other reading sources:
"Discriminative and Affective Touch: Sensing and Feeling" open access in Neuron click here.
"Somatosensory processing in neurodevelopmental disorders" in Journal of neurodevelopmental disorders click here.
"The Loving Touch is Critical for Premature Infants click" here.
"Loneliness in Infancy: Harry Harlow, John Bowlby and Issues of Separation" in Integrative Psychological and Behavioral Science click here.
The Blog was written by Carolyn Lacey, Scientific Outreach Manager at Neurexpert. To learn more about Carolyn and Neurexpert, please click here.