The human brain carries out many different processes including those related to sensory and emotional functions, and those of sleep, attention and cognition. Deficits in these processes have all been associated with psychiatric disorders, particularly schizophrenia and bipolar disorder. Interestingly, imaging studies have previously demonstrated abnormalities in the TRN of patients with schizophrenia and bipolar disorder.
The TRN connects and modulates activity between the cortex and the thalamus and is almost entirely made up of fast-spiking GABAergic interneurons, containing the calcium-binding protein parvalbumin (parvalbumin interneurons). These neurons form networks which synchronise thalamo-cortical activity, producing synchronised brain rhythms. In psychiatric conditions, such as schizophrenia and bipolar disorder, there is evidence of deficits in these cells and disturbances in these brain rhythms.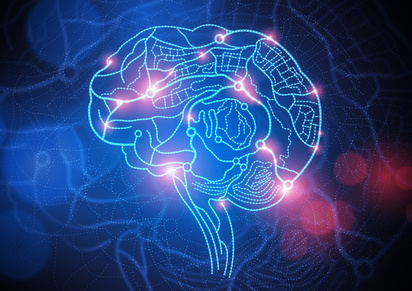 As well as parvalbumin interneurons, structures called 'perineuronal nets' have been associated with the pathophysiology of these psychiatric disorders, as reduced numbers have been observed in the amygdala, and the prefrontal and entorhinal cortices of patients. Perineuronal nets play a role in the maturation of neuronal cells, modulation of synaptic plasticity and neuronal firing patterns, and protect cells, such as parvalbumin interneurons, against a damaging biological process called 'oxidative stress'.
Oxidative stress is the over production of metabolically-produced reactive oxygen species (or free radicals) and insufficient generation of neutralising antioxidants, which ultimately results in damage to cells. As parvalbumin interneurons are highly energy demanding, they are more vulnerable to damage via oxidative stress than other types of neuron.
With this in mind, it is therefore reasonable to suggest that changes, via oxidative stress, to the circuitry and neuronal functionality of the TRN could result in psychiatric pathology. However, up until now, there has been very little direct evidence for this.
A team led by Professors Kim Do (Lausanne) and Sabina Berretta (Harvard), and including Neurexpert's Professor Tom Salt, conducted a study examining parvalbumin interneurons and perineuronal nets of the TRN in human post mortem tissue, and the effects of oxidative stress on the function of these cells in mice with redox dysregulation (Steullet et al, 2017). Their aim was to demonstrate altered circuitry and functionality of the TRN in these psychiatric disorders.
The human post mortem experiments compared thalamus tissue from subjects with schizophrenia and bipolar disorder with that from healthy controls. The results revealed a marked decrease in both number and density of the parvalbumin interneurons and perineuronal nets in both schizophrenia and bipolar disorder subjects compared to normal matched control subjects.
To then understand whether these differences were due to damage by oxidative stress, more detailed studies were performed using a genetically modified mouse (GCLM-/-) that shows dysregulation of redox processes as it has reduced glutathione, a key antioxidant and redox regulator.
Firstly, by looking at mitochondrial DNA damage, the study demonstrated that oxidative stress was 150% greater in the TRN of GCLM-/- mice than normal mice and, subsequently, the number of parvalbumin interneurons was reduced by a third, and perineuronal nets by 17%.
Secondly, the study investigated whether or not this oxidative stress was present throughout development. Not only was the pattern seen in adult mice seen in juvenile and pubertal mice, but both effects also increased with age; therefore, as the mice age, the levels of oxidative stress increase, and the number of parvalbumin interneurons and perineuronal nets decreases. This mirrors the developmental profile of schizophrenia in humans.
Finally, the study investigated whether there were any functional abnormalities in the functional properties of TRN neurons in GCLM-/- mice. Interestingly, using an electrophysiological approach, it was found that there was a significant reduction in the number of neurons performing spike bursts in the GCLM-/- mice, with more neurons not generating any burst behaviour at all. Such changes are likely to underlie the changes in brain rhythms that are similar to those that are seen in patients with schizophrenia.
Damage to parvalbumin interneurons and perineuronal nets due to oxidative stress results in a cascade of abnormalities including impaired synaptic plasticity, neuronal inhibition and spiking behaviour. This is then reflected in the symptoms and deficits presented by patients; hallucinations and sleep disruption, and attentional, emotional, cognitive processing. This study highlights these cells in the TRN as a significantly vulnerable target of oxidative stress, signifying a key site and mechanism involved in the pathophysiology of schizophrenia and bipolar disorder.
Reference
Steullet, P., J. H. Cabungcal, S. A. Bukhari, M. I. Ardelt, H. Pantazopoulos, F. Hamati, T. E. Salt, M. Cuenod, K. Q. Do and S. Berretta (2017). "The thalamic reticular nucleus in schizophrenia and bipolar disorder: role of parvalbumin-expressing neuron networks and oxidative stress." Molecular Psychiatry. http://dx.doi.org/10.1038/mp.2017.230
The Blog was written by Beth Dennis. To learn more about Beth and Neurexpert, please click here.